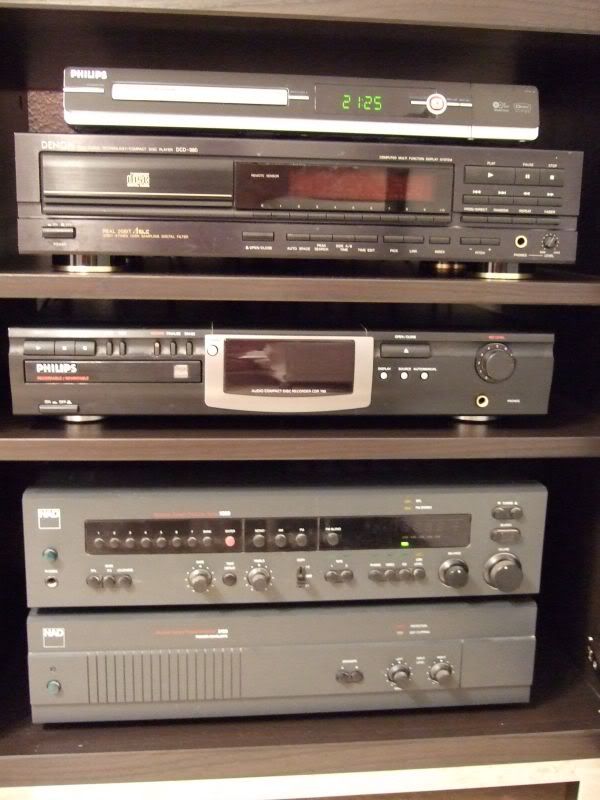 Yesterday I was browsing one of the brochures from MediaMarkt and suddenly I realized about the demise of hi-fi.
Before I go on, I'd like to stress this is not one of those dickwaving posts to brag about my many knowledges on hi-fi, or about my hyperexpensive hifi system: I am half deaf and my system is 22 years old, very far from the last advances.
The start of the story is that, looking at the MediaMarkt stuff there was, in total, two products devoted to listening to music. And both were tiny digital audio players. No amplifier, no CD player, no loudspeakers, no anything at all. Let alone turntables, which are like dinosaurs for the majority of people. Hi-fi was nowhere to be seen. Yet there were plenty of large TV sets, digital cameras, computers, hard disks, etc. But space focused on high quality audio playback: none at all.
This made me remind about my teenager years, when I started to get deeply interested in music. At the time, I remember saving buck by buck to buy the first audio system, one which was not expensive but still had good quality turntable & speakers. After a few years, and again saving and saving, we were able to get our first CD player.
In 1990, I started having a small salary. The first I got was spent in gifts for my family, but the second was used to get a good CD player. It's the same I am using today. A couple of years later, I had saved enough for an amplifier + preamplifier with loudspeakers, all of good quality. Again, they are the same I am using today, and the few times I manage to find time and use them properly, they sound amazing. The CD player, amp & preamp are shown in the picture above, together with a couple of more recent devices (a DVD player and a CD recorder).
By contrast, as of today, the few good hifi shops that existed in my town have been disappearing, or widening the kind of products they sell. In the big surfaces there is less and less space dedicated to audio systems. And all is a reflection of the lack of interest of people, who listen to music by headphones or in computers, but very seldom in a specific hifi system.
All of this is possibly related to the trends of miniaturization and use of small devices for audio playback. Yet I find a real shame that, in times when digital products have become very affordable, the outcome is that people is listening to music in truly awful conditions. And I say it is a shame because, for anybody whose ears work fine, the difference between computer speakers, or cheap headphones, vs a good hifi system (even not expensive, just the basic stuff in good quality) is nothing short of astonishing, and it truly opens a new door to enjoy good music.
But this is, I guess, another sign of the times.